Urania Observatory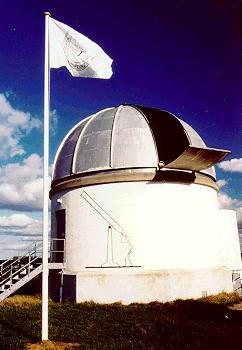 Opening hours:
From September to end of April the Observatory is open to the public on Wednesdays from 19:30 to 22:00

Group visits by appointment are possible on selected Thursdays.

Everyone is welcome. However, the number of individuals in a group should not exceed 20.
Note that the Observatory is closed in the week before Eastern and between Christmas and New Year.
The Urania Observatory was inaugurated in 1988. It has the largest refracting telescope in Denmark accessible to the public. The Urania Refractor was originally located in Frederiksberg.
The tube is over four meters in length and the diameter of the aperture is approximately 25 cm. The Observatory is run by North Jutland Astronomical Club for Amateurs (NAFA).
The public interest is great, and some thousand of people visit the Observatory each year.
Technical data and photos
Dimensions of the Urania refractor and other data relating to it, as well as a photo gallery, can be found by using this link


You will find us here
| | |
| --- | --- |
| | |
| Driving on the motorway use exit 26 and continue westwards on Th. Sauers Vej and turn right onto Sohngårdsholmsvej. Drive to Borgmester Jørgensens Vej, indicated by a sign saying "Urania observatoriet". | Follow Borgmester Jørgensens Vej as indicated. From the parking lot at the club house continue on foot to the Observatory. |